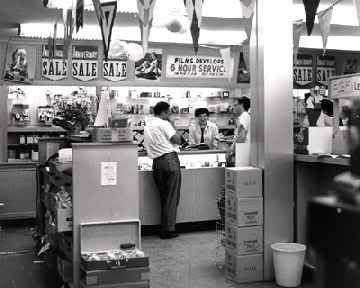 I got off work yesterday around 3:30pm and headed for the grocery store. Instead of going to the local giganta-grocer (they put Albertsons & Kroger out of business), I went to a new, independent grocer near the house. I try to patronize this store as often as possible -- Just because.
The store typically isn't that crowded most times. Yesterday was no exception. I picked up a cart on the way in, and started in the produce section.
There were no more than five or ten other customers in the store, and only two (a mother and son) in the produce section, when I started picking through a bin of peaches that were neatly arranged in nearly perfect rows and layers. I selected a few top specimens and stepped to the right to browse through the equally perfectly organized bin of apples. They were impeccably polished and shiny. I selected four worthy beauties.
As I looked around, it occurred to me that
all
the fruits and vegetables were arranged perfectly, almost too perfectly. A woman walked by. Our eyes met and we exchanged polite smiles. After bagging four black plums and some cilantro, I pushed my cart toward the small bread section. It was strangely refreshing to see that there weren't twenty-seven different brands of bread, rolls, and tortillas. It was exceedingly easy to make my selection.
I forged slowly on toward the dairy section. On my way there, I passed the refrigerated, packaged-meat section. The prices were good. I continued past the butcher's meat case, which contained beautiful, unpackaged cuts of perfectly marbled beef, chicken, pork and a few filets of fish. The butcher worked intently in the sanitary, hermetically sealed butcher's operating room (I'm sure there's some fancy-schmancy industry word for that room).
It was at that point that a wave of something overcame me. Oh, don't worry, it wasn't anything bad or ominous or scary. It was like some kind of reality shift. The music that had been playing throughout the store the whole time was sixties-era background music. It played on old, store-quality speakers. It was as if was thrust back in time to a small town in the sixties. I felt like a character in a quirky independent film. I thought about how simple life was when I was young. I thought about my mom; about my grandmother, and how I used to love sitting at her kitchen counter eating avocados my grandfather and I had just picked from trees in their grove. I yearned for a simpler life. I pictured myself working a "regular" job in the fifties or sixties, carrying an old-school
lunch box
to and from work.
When I finally got to the registers, there were but two open. Only one of them had anyone in line. The checker greeted me politely as I placed $25 worth of items on the conveyer belt.
Either the electronic credit card reader or the two bozos at the other register snapped me back to 2005. The two bozos were too-tattooed, and were trying way too hard to look "original." You know the kind....The bozos who have this inexplicable (to me anyway) need to "express themselves" "uniquely" by dressing and getting tattoos just like everyone else in their peer group. (I suppose we all have a little bozo in us, but that's another story.)
I exited the store and walked into the parking lot. I walked to my car in a fog. I had just been somewhere, and I was having a bit of a hard time understanding why. It was a nice place, if not a bit disconcerting. I drove home in a similar fog and remained in a semi-daze until The Warden snapped me out of it by saying something or another that made me laugh out loud. I realized that everything was okay (i.e. I hadn't lost my mind). For the moment, I stopped trying to figure out if there was a reason for the experience I'd just had.
It was a very, very strange experience.
++++++++++
Dubya Quote of the Day:

"There needs to be debates, like we're going through. There needs to be town-hall meetings. There needs to be travel. This is a huge country."—Larry King Live, Dec. 16, 1999